Premier fine jewelry boutique from Dubai. 
"I see beauty in every aspect of Life and try to capture this through a collaboration of exquisite diamonds in perfect harmony with precious stones. I design for the woman who has it all But desires something more than mere jewelry."
– Ms. Farah Barakat.
         It was in 2006,When Farah Barakat ventured to establish a luxury jewelry brand to keep up her family traditional line. The world of fine jewelry is a family affair for Farah. It is a tradition lasting over five generations and built over a long experience with the extensive knowledge of precious materials and gemstones. Farah Barakat is an intuitive business women and a dedicated artist! Her effort to fulfill her dream brought her to Italy – Florence for a jewelry design degree, and then Vicenza to the GIA institute where she was qualified as a gemologist.
         In the Year of 2008, Farah founded her brand Farah Jewellery. She started an exclusive opulent boutique in Dubai Mall, where she showcased her own designed jewelry that continues to set the standard for the ultimate in fine jewelry .
         All our jewelry manufacturing is done in-house with strict attention to every detail and process. From designing to the making of the piece, we make sure that only the best materials and of high standards are used when a piece comes to its completion.
         Farah Barakat was awarded the 'Best Oriental Design' By 'The Middle East Premier Awards 2010' for her creation – 'EYES OF BABYLON'. In the Year of 2013, Farah Barakat inaugurated her second boutique in Grand Hyatt Dubai, a well known luxury hotel in Dubai.
         Embodying a subtle blend of elegance intertwined with a truly flawless contemporary design, the latest creation from Farah Barakat, called "Eyes of Babylon" is clearly intended to appeal to the most demanding connoisseurs of design and quality. The collection sets its sights on a sophisticated, dynamic, and cosmopolitan audience.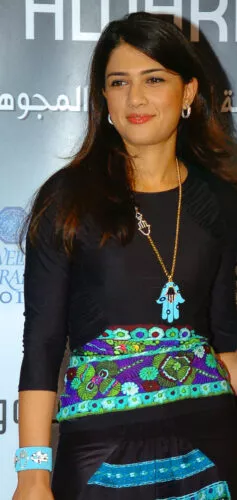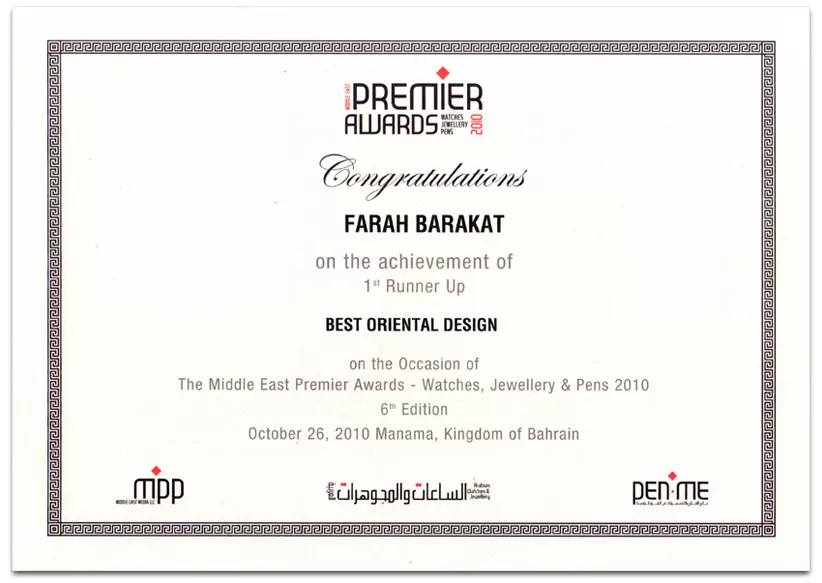 The name of the collection was derived from the idea that Babylon was once a great empire and to Farah it still is because of its rich historical background and the epic achievements that we recreated during this era. The materials used to bring these visions to life are only the finest, most gleaming pieces of 18k gold complimented by exceptional touches of diamonds, precious stones and carefully crafted enamel that are all cut and matched to perfection. Farah has conceived an entire collection made of the finest goldsmith pieces, which find its distinctive character in the ancient symbol of the city Babylon.
         Our spectacular collection of jewelry is available with a variety of high quality diamonds, emeralds, rubies, sapphires, tanzanite, pearls and other semi-precious gemstones. Our jewelry line includes 21k Turkish jewelry, 18k Italian jewelry and many more to provide you with a wide range of choice for every occasion.